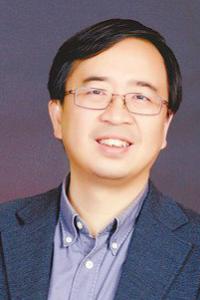 地址
安徽省合肥市包河区金寨路96号,230026
个人简介
潘建伟,1970年3月生,浙江东阳人。1999年获奥地利维也纳大学实验物理博士学位。中国科学技术大学教授,中国科学院院士,发展中国家科学院院士,奥地利科学院外籍院士,中科院量子信息与量子科技创新研究院院长,中科院量子科学实验卫星先导专项首席科学家。
潘建伟教授主要从事量子光学、量子信息和量子力学基础问题检验等方面的研究。作为国际上量子信息实验研究领域的开拓者之一,他是该领域有重要国际影响力的科学家。利用量子光学手段,他在量子调控领域取得了一系列有重要意义的研究成果,尤其是他关于量子通信和多光子纠缠操纵的系统性创新工作使得量子信息实验研究成为近年来物理学发展最迅速的方向之一。其研究成果曾多次入选英国《自然》杂志评选的年度重大科学事件、美国《科学》杂志评选的"年度十大科技进展"、英国物理学会评选的"年度物理学重大进展"、美国物理学会评选的"年度物理学重大事件"以及两院院士评选的"中国年度十大科技进展新闻"。
Genuine 12-Qubit Entanglement on a Superconducting Quantum Processor.

Physical Review Letters

122,

110501

(2019).

Observation of magnetically tunable Feshbach resonances in ultracold 23Na40K + 40K collisions.

Science

363,

261-264

(2019).

On-Demand Semiconductor Source of Entangled Photons Which Simultaneously Has High Fidelity, Efficiency, and Indistinguishability.

Physical Review Letters

122,

113602

(2019).

Strongly correlated quantum walks with a 12-qubit superconducting processor.

Science

1611,

eaaw1611

(2019).

12-Photon Entanglement and Scalable Scattershot Boson Sampling with Optimal Entangled-Photon Pairs from Parametric Down-Conversion.

Physical Review Letters

121,

250505

(2018).

18-Qubit Entanglement with Six Photons Three Degrees of Freedom.

Physical Review Letters

120,

260502

(2018).

30 W, sub-kHz frequency-locked laser at 532 nm.

Optics Express

26,

33756

(2018).

A monolithic readout circuit for high-frequency sine wave gating single-photon detection.

49

(2018).

doi:10.1117/12.2502329

Bell Test over Extremely High-Loss Channels: Towards Distributing Entangled Photon Pairs between Earth and the Moon.

Physical Review Letters

120,

140405

(2018).

Compact and lightweight 1.5 $\mu$ m lidar with a multi-mode fiber coupling free-running InGaAs/InP single-photon detector.

Review of Scientific Instruments

89,

103106

(2018).