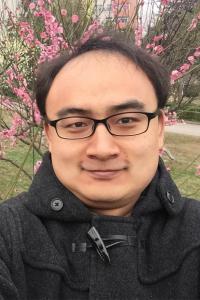 Email
ftliang@ustc.edu.cn
Address
Room B1205-1, Physical Science Park, University of Science & Technology of China, 96 Jin Zhai Rd., Hefei
Introduction
Dr. Liang Futian, graduated from the Department of Modern Physics, University of Science and Technology of China 2013.He is a Associate Professor of the University of Science and Technology of China. The main research direction is high-speed and high-precision ASIC chip design, circuit design, providing electronic technical support for quantum communication and superconducting quantum computing.
Experimental Quantum Key Distribution with Integrated Silicon Photonics and Electronics.

Physical Review Applied

17,

1

(2022).

Scalable Self-Adaptive Synchronous Triggering System in Superconducting Quantum Computing.

IEEE Transactions on Nuclear Science

67,

2148-2154

(2020).

Note: A 10 Gbps real-time post-processing free physical random number generator chip.

Review of Scientific Instruments

88,

096105

(2017).

Post-processing Free Quantum Random Number Generator Based on Avalanche Photodiode Array.

Chinese Physics Letters

33,

030303

(2016).

10-Gbps true random number generator accomplished in ASIC.

1-4

(2016).

doi:10.1109/RTC.2016.7543082

Design of a 10-Gbps random number recorder.

1-3

(2016).

doi:10.1109/RTC.2016.7543101

Active inductor shunt peaking in high-speed VCSEL driver design.

Chinese Physics C

37,

116101

(2013).

The design of 8-Gbps VCSEL drivers for ATLAS liquid Argon calorimeter upgrade.

Journal of Instrumentation

8,

C01031—C01031

(2013).

Data Acquisition System for the 3He Position-Sensitive Proportional Counter Based Neutron Dosimeter.

Physics Procedia

37,

1813-1818

(2012).