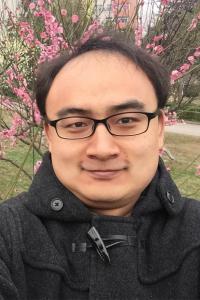 地址
安徽合肥金寨路96号,中国科学技术大学,物质科学楼B1205-1室
个人简介
梁福田博士,2013年在中国科学技术大学获得博士学位,电子科学与技术学科,物理电子学专业。博士毕业后 在中国科学技术大学完成一期博士后工作,目前为该校副研究员。 主攻科研方向有①超导量子计算机电子学设计,②模拟ASIC芯片设计。对超导量子计算机方案中电子学设备的需求及工作原理有深入研究,带队研发了超导量子计算操作所需要的电子学原型设备并成功取代国外专用设备,满足了中国首台线上超导量子计算机的电子设备需求。
Experimental Quantum Key Distribution with Integrated Silicon Photonics and Electronics.

Physical Review Applied

17,

1

(2022).

Scalable Self-Adaptive Synchronous Triggering System in Superconducting Quantum Computing.

IEEE Transactions on Nuclear Science

67,

2148-2154

(2020).

Note: A 10 Gbps real-time post-processing free physical random number generator chip.

Review of Scientific Instruments

88,

096105

(2017).

Post-processing Free Quantum Random Number Generator Based on Avalanche Photodiode Array.

Chinese Physics Letters

33,

030303

(2016).

10-Gbps true random number generator accomplished in ASIC.

1-4

(2016).

doi:10.1109/RTC.2016.7543082

Design of a 10-Gbps random number recorder.

1-3

(2016).

doi:10.1109/RTC.2016.7543101

Active inductor shunt peaking in high-speed VCSEL driver design.

Chinese Physics C

37,

116101

(2013).

The design of 8-Gbps VCSEL drivers for ATLAS liquid Argon calorimeter upgrade.

Journal of Instrumentation

8,

C01031—C01031

(2013).

Data Acquisition System for the 3He Position-Sensitive Proportional Counter Based Neutron Dosimeter.

Physics Procedia

37,

1813-1818

(2012).