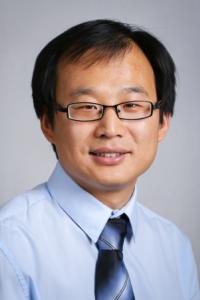 Email
yongheng@ustc.edu.cn
Address
Xiupu Road 99, Pudong New district, Shanghai, China
Introduction
Yongheng received his BS at Tianjin University in July, 2006 and his PhD degree at the Institute of Semiconductors, CAS in January 2011. In February 2011 he started to work as a postdoctoral research associate in the Institute for Integrative Sciences, IFW Dresden with an IFW Scholarship and in January 2013 he became the responsible scientist of the MBE Lab in IFW. In April 2015 he joined JKU Linz as a senior researcher where he set up the III/V MBE lab with Prof. Armando Rastelli. In July 2016 he became a specially appointed professor in USTC. He has more than 10 years' experience in material growth, device fabrication and related physics. He has reported the 1st quantum dot (QD) with light hole in the ground valence band state, the 1st GaAs QD on (001) substrate which can emitted entangled photons without pre-/post-growth tuning and has also grown QDs for wavelength tunable ultrafast electrically pumped single/entangled photon sources etc. Since joined USTC in 2016 he has established a new quantum material & device group with research interests in developing novel quantum materials and devices including ultra-bright single/entangled photon sources, Qubit-oriented superconducting films etc. for the applications in quantum information science.
Multiphoton Graph States from a Solid-State Single-Photon Source.

ACS Photonics

7,

1603-1610

(2020).

Proof-of-principle demonstration of compiled Shor s algorithm using a quantum dot single-photon source.

Optics Express

28,

18917

(2020).

Towards optimal single-photon sources from polarized microcavities.

Nature Photonics

13,

770

(2019).

Energy-tunable single-photon light-emitting diode by strain fields.

Applied Physics B

122,

7

(2016).

Inter-sublevel dynamics in single InAs/GaAs quantum dots induced by strong terahertz excitation.

Applied Physics Letters

108,

082107

(2016).

Publisher s Note: An artificial Rb atom in a semiconductor with lifetime-limited linewidth [Phys. Rev. B 92 , 245439 (2015)].

Physical Review B

93,

159905

(2016).

Narrow-line self-assembled GaAs quantum dots for plasmonics.

Applied Physics Letters

106,

101110

(2015).

An artificial Rb atom in a semiconductor with lifetime-limited linewidth.

Physical Review B

92,

245439

(2015).

High yield and ultrafast sources of electrically triggered entangled-photon pairs based on strain-tunable quantum dots.

Nature Communications

6,

10067

(2015).

Plasmonic Superlensing in Doped GaAs.

Nano Letters

15,

1057-1061

(2015).