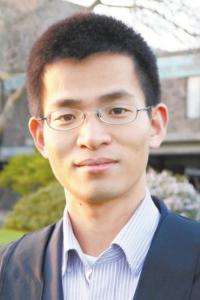 Address
No.99 Xiupu Road, Pudong District, Shanghai, China
Introduction
Chao-Yang Lu received his PhD from University of Cambridge in 2011. After that, he was appointed a full Professor at the University of Science and Technology of China. His research interest include optical quantum information processing and quantum photonics. His work on quantum teleportation was selected as "Breakthrough of the Year 2015" by IOP Physics World. He published more than 40 articles in journal including Rev. Mod. Phys, Nature, Nature research journals, PNAS and PRL, and received more than 3000 citations. He is elected Fellow of Churchill College of Cambridge University, Fellow of Optical Sciety of America. He has been awarded Young Thousand Talent, Hong Kong Qiushi Outstanding Young Scholars, China National Natural Science Fund for Exceptional Young Scholars, and First-Class National Natural Science Prize, among others.
Demonstration of topologically path-independent anyonic braiding in a nine-qubit planar code.

Optica

6,

264

(2019).

Emergence of Classical Objectivity of Quantum Darwinism in a Photonic Quantum Simulator.

Science Bulletin

(2019).

Experimental demonstration of quantum pigeonhole paradox.

Proceedings of the National Academy of Sciences

116,

1549-1552

(2019).

Experimental Gaussian boson sampling.

Science Bulletin

(2019).

Genuine 12-Qubit Entanglement on a Superconducting Quantum Processor.

Physical Review Letters

122,

110501

(2019).

On-Demand Semiconductor Source of Entangled Photons Which Simultaneously Has High Fidelity, Efficiency, and Indistinguishability.

Physical Review Letters

122,

113602

(2019).

12-Photon Entanglement and Scalable Scattershot Boson Sampling with Optimal Entangled-Photon Pairs from Parametric Down-Conversion.

Physical Review Letters

121,

250505

(2018).

18-Qubit Entanglement with Six Photons Three Degrees of Freedom.

Physical Review Letters

120,

260502

(2018).

Demonstration of topological data analysis on a quantum processor.

Optica

5,

193

(2018).

Demonstration of Topological Robustness of Anyonic Braiding Statistics with a Superconducting Quantum Circuit.

Physical Review Letters

121,

030502

(2018).