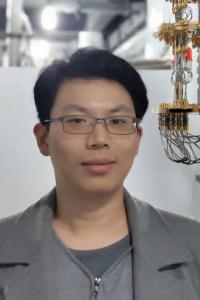 Email
Minggong@ustc.edu.cn
Address
No.99 Xiupu Road, Pudong District, Shanghai, China
Introduction
Ming Gong was born in Zhangjiagang, Jiangsu province in 1989. He got his bachelor degree from Nanjing University in 2011. He obtained the Ph. D from Nanjing University in 2016. His research interest is focused on superconducting quantum computation and quantum simulation.
Generation of genuine entanglement up to 51 superconducting qubits.

Nature

(2023).

doi:10.1038/s41586-023-06195-1

Realization of an Error-Correcting Surface Code with Superconducting Qubits.

Physical Review Letters

129,

030501

(2022).

Quantum computational advantage via 60-qubit 24-cycle random circuit sampling.

Science Bulletin

(2021).

doi:10.1016/j.scib.2021.10.017

Strong quantum computational advantage using a superconducting quantum processor.

Physical Review Letters

127,

180501

(2021).

Realization of High-Fidelity Controlled-Phase Gates in Extensible Superconducting Qubits Design with a Tunable Coupler.

Chinese Physics Letters

38,

100301

(2021).

Experimental Quantum Generative Adversarial Networks for Image Generation.

Physical Review Applied

16,

1-20

(2021).

Experimental characterization of the quantum many-body localization transition.

Physical Review Research

3,

1-14

(2021).

Observation of Strong and Weak Thermalization in a Superconducting Quantum Processor.

Physical Review Letters

127,

25-27

(2021).

Quantum walks on a programmable two-dimensional 62-qubit superconducting processor.

Science

372,

948-952

(2021).

Emulating Quantum Teleportation of a Majorana Zero Mode Qubit.

Physical Review Letters

126,

1-7

(2021).